Employees in our pubs
Since starting its new build programme Marston's has created over 6,000 jobs across the UK, many of them for young people.
Details of our new pubs and the training given to our new teams is available here: marstonscareers.co.uk
Marston's Pub Career Path develops our new employees including:
Job specific induction programme
Pub management courses – we created WISDOM (Working to Inspire Skill Development of Managers) which provides a flexible development solution for developing our pub managers based around three areas: essential / business / personal
Classroom courses and E-learning modules – Licensing, food safety, health and safety, fire awareness, first aid, fire marshal training)
Apprenticeship opportunities for all ages – Over 1,000 employees have completed an apprenticeship in the last 3 years
Chef Development Programme – training of line chefs, second chefs and head chefs
Keyholder Development Programme – training of supervisors and assistant managers
Deputy Manager Programme – training future licensed retail managers
During the year we have continued to invest in training and development:
1 in 3 employees receiving formal training
Over 70,000 e-learning modules completed
Over 35,000 learning resources accessed via our Talent Academy online covering a range of areas, from health and safety, time management to delivering the "perfect serve"
Case study: Talent Academy Online
Talent Academy Online has been supporting Marston's and its employees with a place to learn and develop since 2017. Training and development tools have been designed for use in all areas of business, from Induction, to our Development programmes, the system also includes a range of Leadership & Management tools for use across the entirety of Marston's. The system allows anyone to access support tools at any given time through a well-designed app and website, this year alone we have seen a record number of log in's and downloads equating to 379,686
Whilst Covid 19 delayed some areas of planned development, it did allow us as a team to move further into the Digital Training sector, giving us the opportunity to provide training and support to all of our employees upon returning to work. Along with CPL, our Learning Management System provider, the Training Team designed a number of modules to ensure as a PLC we were safe, compliant and ready to re-open our doors, but above all else putting our guests and team members at the heart of everything we do, by setting them up for success.
In just a two week period (prior to hospitality reopening on the 4th July) we had a record number of completions. Over 11,000 people (resulting in 22,115 completions) successfully completed our 'Covid-19 Ways of Working' module and our 'GUEST' module (including a separate Hotel GUEST module) which focused on giving our guests the confidence to visit in an uncertain time, providing an exceptional guest experience from the greeting to the goodbye, whilst keeping them Covid secure with our hourly cleaning schedules and sanitising stations.
This year we have also added a further 6 training modules to our system for all areas of the business including an Allergens course, designed by our Technical & Training Team, in conjunction with Anaphylactic UK which has seen 8911 employees complete.
In addition to this achievement we have also supported our non-managed estate with a Digital Learning Platform to help support them and their team members in this unprecedented time. This has been a revolutionary year for Digital Training and we only aim to continue into 2021, developing and supporting our team members through engaging, modern alternatives to classroom based learning.
Case study: Apprenticeships
Our approach to early careers allows people to build their skills and career, with support, variety, development, progression and benefits as part of the package.
Early careers at Marston's starts with our 'Take 5' work experience placement for year 10 and 11 students, who we welcome to join us in one of our pubs across the country to 'Take 5' days out of school to learn how to run a pub, get a taste for work and see if they love hospitality as much as we do.
We work together, with the hospitality industry, to focus on improving the perceptions of working in a pub, so young people, educators and parents, or carers, see the career opportunities this fantastic industry provides. You'll find 'Loving Hospitality' exhibiting at World Skills UK, the local National Apprenticeship Shows and virtual careers fairs, in conjunction with local schools.
We now offer twenty-five different apprenticeship standards across our pubs, bars and our support services, so our apprentices develop their skills and knowledge in all areas of the hospitality industry, through our wide range of level 2-7 apprenticeships.
We train up to 500 apprentices each year and have been recognised as winners of the West Midlands National Apprenticeship Awards 2018 and Hospitality Apprenticeship Employer of the Year (over 1,500 employees) at the 2019 Caterer.com People Awards, as a result of the strong pass rates, high retention and continued progression of apprentices.
At Marston's, clearly defined pathways of progression mean team mates can join our level 2 apprenticeship, either front of house or in one of our kitchen's, develop as a supervisor or head chef, through a level 3, before continuing into the role of General Manager and study a level 4 hospitality manager apprenticeship. The variety of apprenticeships available has given our senior leaders the opportunity to benefit from leadership development, as part of the level 5 operations manager apprenticeship and, as a result, several general manager's have successfully passed and progressed to area operations manager level.
Our awesome apprentices put so much effort into their programme, it's only right that we recognise them! Each year we put on our annual apprenticeship awards and teammates nominate an apprentice who has made a massive difference in their team and we surprise them at work with their prize and award by special delivery! This year's winners joined 200 apprentices from the hospitality industry in the House of Commons, as they looked to impress their local MPs in the fourth annual Hospitality Apprenticeship Showcase as part of National Apprenticeship Week 2020.
We are key members of the West Midland Apprenticeship Ambassador's Network, which aims to inspire and influence people to choose apprenticeships, as a route to create business and individual success across the country. We are also part of the Amazing Apprentices Apprenticeship Champions Network, working with individuals from schools, colleges and many other organisations to support them to increase and update their knowledge of apprenticeships, share best practice about 'what works' in helping to challenge out-dated perceptions of apprenticeships, meet inspirational apprentices and us as employers and so much more.
CASE STUDY – BRIDIE LAVENDAR, HEAD CHEF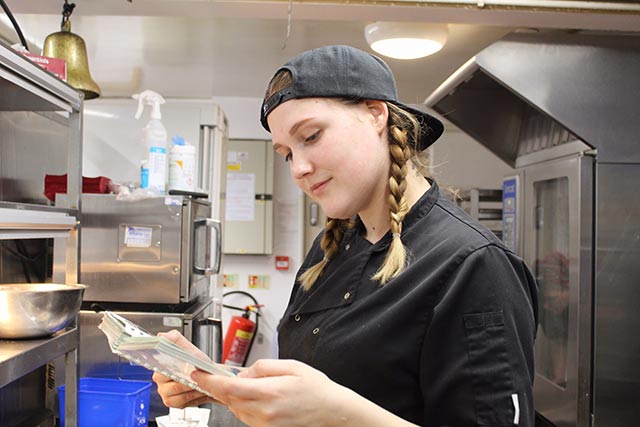 As a Head Chef, my role is to lead the kitchen team to deliver the best Guest experience! I support my team to grow, I have quite a lot of administration to complete, such as food ordering, stock checks, responding to emails, I promote the pubs social media Facebook page and I also manage to cook on top of all my other responsibilities!
I am a level 3 Senior Production apprentice, this is my second apprenticeship. When I first joined Marston's, I worked front of house and completed a level 2 Hospitality Team Member apprenticeship, it was hard work, but the knowledge and skills I gained have helped me to get on and progress. One of the highlights of my apprenticeship was the business project, as I got to choose my own idea to work on and implement this within my business. I chose the subject of tackling environmental issues within the hospitality industry and it was an amazing feeling to be able to get creative with my ideas. It's allowed me to talk about something which I feel deeply passionate about, I also got to further those ideas and share my own knowledge when attending Marston's training courses, as part of my head chef development.
One of my proudest moments on my apprenticeship was being invited to the apprentice hospitality showcase event in London at the House of Commons. This opportunity was amazing for me, it gave me such a high sense of achievement, representing Marston's and seeing the effort and dedication I have put into my work and having my apprenticeship have been recognised in this way.