Managed and franchised pubs
Individual pubs
Our managed pubs represent the largest contributor to the carbon footprint under our direct control and we are committed to reducing our energy and associated emissions. The table below represents average energy consumption and CO2 emissions per pub within our managed portfolio for which we consider the data collated to be reliable over the previous six years.
| Year | Total kWh |
| --- | --- |
| 2019-20 | 457,123 |
| 2018-19 | 447,517 |
| 2017-18 | 473,828 |
| 2016-17 | 487,466 |
| 2015-16 | 464,351 |
| 2014-15 | 497,590 |
Energy & Carbon reduction initiatives
Catering
Throughout Marston's portfolio of pubs food sales have steadily increased. As such the energy demand of our kitchens has also increased. To increase efficiencies and minimise costs, Marston's have worked on the catering specification to reduce the energy consumption and increase life expectancy of catering equipment. Innovations have included highly efficient fryers that filter oil to increase oil life, and high efficiency chargrills.
Refrigeration
Traditional fluorocarbon refrigerants are ozone depleting or have a significant global warming impact. As such Marston's are committed to reducing the use of these HFC's. All of Marston's cabinet refrigerators purchased are high-energy efficiency hydrocarbon units, which are manufactured in the UK.
LED Lighting
Lighting makes up a significant proportion of the electrical consumption of a pub. We have installed LED lighting to all internal areas across the whole of our pub estate. LED lighting consumes 80% less energy than tradition incandescent lighting. In back of house areas we have installed LED lighting integrated PIR occupancy sensors, reducing the operational hours of the lighting.
Voltage Optimisation
Voltage optimisation increases the efficiency of electrical equipment, whilst also preventing electrical surges. We have installed voltage optimisation in all of our new-builds and have retrofitted to over 100 sites. The units are more efficient and have a considerably reduced embedded carbon footprint, meaning carbon payback is reduced by 17 per cent

A BREEAM assessment uses recognised measures of performance, which are set against established benchmarks, to evaluate a building's specification, design, construction and use. The measures used represent a broad range of categories and criteria. They include aspects related to energy and water use, the internal environment (health and well-being), pollution, transport, materials, waste, ecology and management processes.
Many of our new-builds are now built to Breeam Standards; many to Breeam Very Good and one Breeam Excellent.
Case study: BREEAM Excellent New Build - Blaina Wharf, Newport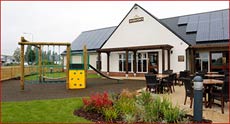 Blaina Wharf successfully achieved BREEAM excellent. Photovoltaic panels have been installed to generate renewable electricity from the sun's energy. Air Heat Source Pumps have been installed, which transfer heat from the atmosphere outside to inside the pub. The lighting is provided by LED that uses approximately 80% less energy than conventional lighting. Fresh air is used to cool beer when temperatures are low enough outside. The building has been constructed adhering to the BREEAM excellent standard, ensuring the environmental impacts of the building are minimised during its life cycle.

Energy Heroes
Employee engagement and behaviour change has a great impact on energy and water consumption, empowering our employers is key to reduce our environmental impacts. Environmental training is provided to our pub teams via our training platform Talent Academy Online and is available to all sites where we are responsible for utilities.
Tenanted and leased pubs
Our tenants and lessees are responsible for the energy used in the pubs they operate. However, we aim to support their efforts in energy and carbon management by the transfer of our knowledge and experience. Through our online portal – "My Marston's Online" - we offer information on energy saving strategies. We promote our tenants to install energy efficient equipment, where possible we extent procurement arrangements to our tenants so they can benefit from energy saving solutions. We are currently investigating innovative finance solutions to assist with the implementation of measures and will be offering training and support.
Marston's Rapid Electric Vehicle Charging Network
One of the biggest private networks Europe
We have reached our next environmental milestone after completing the installation of rapid EV chargers across 100 pubs in partnership with Osprey Charging.

We have committed to installing rapid chargers at 200 sites and have recently completed our 100th site, making our network one of the biggest of its kind in Europe. The chargers are powered by 100% renewable energy with up to three cars able to charge at any one time. The rapid chargers can charge an EV with 80-100 miles in around 30 minutes, depending on the type of car and way it is driven. The charging dwell time is perfect for our model, with drivers able to top up while they enjoy a coffee, light bite or meal in one of our pubs. As an early adopter of EV chargers we are able to secure electric grid capacity, future-proof our sites and attract the fast-growing EV population.
Usage is in line with the national average and we have seen positive media and public reaction to the charging experience, locations and quality of food and service in our pubs.